Guide excel unlock sheet vba unprotect worksheet lost password. Unprotect Worksheet Macro With Password 2019-09-08
Guide excel unlock sheet vba unprotect worksheet lost password
Rating: 5,5/10

1597

reviews
Unprotect Worksheet Macro With Password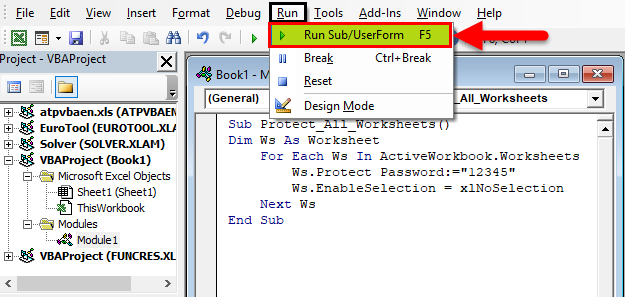 Unprotecting a spreadsheet is even easier, provided that you know the password. Use this program quickly Remove Excel spreadsheet password brilliantly. Unprotect Excel WorkSheet Password with Password It will be extremely easy to unprotect Excel worksheet protection if you've already known the correct password. I can't begin to tell you how many countless hours I spend re-typing. As of now, your excel workbook extension should be like.
Next
excel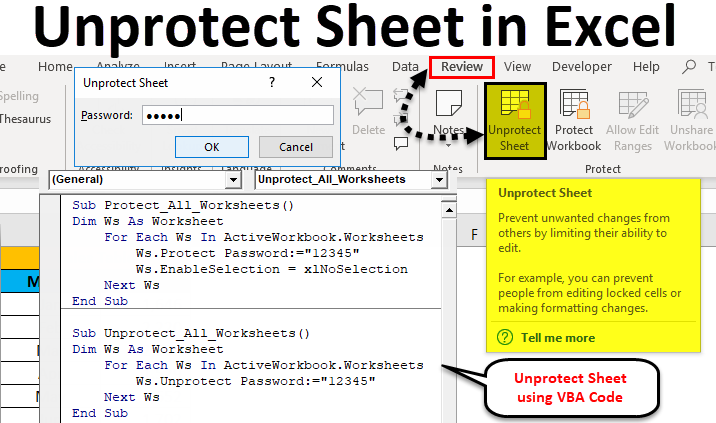 If so, how do you do it? Do not use it to on Excel Files that you are not authorized to open. After this, it becomes easy for you to modify the document without type of restriction. Simply paste the code given below in that window: 5. The article is availed with 3 tweaks to help you. This program could automatically detect all your Excel files which are protected by password and could unprotect sheet password without touching database and structure. And then you can edit the data on this Excel Sheet again. Also I have made a macro create password based on certain user inputs, but need to use that password to protect the sheet which can be passed as a parameter.
Next
How to protect and unprotect Excel sheet with or without Password
Simultaneously press Alt + F11 to open the Visual Basic Editor. You can see the excel data converted in xml language. Unprotect Excel Workbook structure without password 1. In such a situation, you can seek help from other quarters. However, sometimes you may not want to go that far and rather lock only certain cells in your sheet.
Next
How to Crack Excel Worksheet Password
Because you need the same password to unprotect the sheet later if you want to make some changes. After considering the above scenario, we have discussed two ways to resolve this issue. You can use this Worksheet Protection password, only to prevent accidental updates happening to an Excel Workbook. Open up the Marcro Editor Tool. There is no need to remember this fake password or use it anywhere else. After that, press Alt + F11 key in order to open Visual Basic Editor.
Next
How to Unprotect VBA Project in Excel Without Password 2016, 2013, 2010
End Sub Try to enter any data into sheet now. This entry was posted in by How to Unprotect an Excel Spreadsheet if you have lost your password. It should show the option when you run Macro. Now, the excel file is unprotected, it won't ask for password anymore the next time you open it. Also, we have other article links below that would guide you to a more secure way of protecting your Excel document from intruders. Enter the generated code as the password and you are done. Do not change the code just copy paste: Sub PasswordBreaker 'Breaks worksheet password protection.
Next
How to Protect/Unprotect all Worksheets with VBA in Microsoft Excel 2010
Below are the steps to protect and unprotect sheet in excel. How to protect Excel sheet To protect a sheet in Excel 2016, 2013 and 2010, perform the following steps. This Message is contains the password which can be used to unprotect the other sheets in the same workbook. Before removing the tag After removing the tag Step 9 Now go back to the path shown in the step 5. In case of a password protect worksheet you are unable to Edit the data on the Excel Sheet. But both of them are not foolproof solutions.
Next
How to unlock a password protected workbook in Excel 2013
It's at the top of the left panel. I the I tried to open an Excel file using your method but could not get the file to un-zip. Be sure to remember the password or store it in a safe location because you will need it later to unprotect the sheet. It is another type of password protection in Excel. This is key to how long it will take to crack the password because Brute Force attacks on complex passwords are time-consuming. This is how you can protect an Excel sheet and lock the entire workbook from changing or opening. This can be a terrible dilemma if users are in a time crunch or do not remember how they coded their projects.
Next
Unprotect Sheet in Excel
Click on Review, select Unprotect Sheet. Add the locked Excel file to the password program. Example to UnProtect Worksheet Sub sbUnProtectSheet ActiveSheet. It is the most common situation that users lost their workbook password and then search for solution. Step 7 Open the xml sheet name which you want to unprotect using word pad. The protected sheet often has a padlock icon in some versions of Excel. Here, you can see four files Three folders and one xml file.
Next
How to unprotect Excel Workbook and Worksheet with or without password
The code used in this instruction is one of the simplest I've found. The protected sheet often has a padlock icon in some versions of Excel. Excel 2013 is a hug disappointment performance wise. Also you would be getting a message in the pop up window. Additionally, you can select the Read-only option, which is recommended. If forgot the Excel opening password, go to. If the password is correct, the sheet will become unprotected.
Next
excel
However, when i tried the same, i was not able to open the zip folder. So what do you do if you have lost the password to unprotect an excel workbook or worksheet? Applies to Microsoft Excel 2007, 2010, 2013, 2016. There could be much vital information locked up within that worksheet and it's damn important lest you would not have protected it in the first place. Now we have protected our sheet which restricts the users from modifying the document. Step 1: Go to the Review tab and click on the Protect Sheet. You will also see an alert window giving you a useable code. Wait for the process to recover your Excel file opening password, and then use it to unprotect the Excel file.
Next